Operation Snowflake
Operation Snowflake (A Tombs Novella) – Takes place before The Face Stealer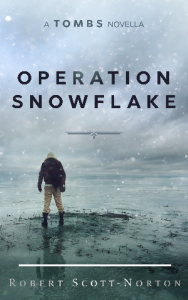 An isolated community faces a terrible threat, but they won't face it alone
When a remote village is visited by U.F.Os, a fractious team of experts is sent to investigate. Alice Linwood soon learns that the lights in the sky had a terrible effect on one young witness and vows to protect her and those she might hurt. Fighting her own insecurities, Linwood's mission becomes simple: Capture an alien and protect the village—all whilst convincing her team she's the right woman for the job.
Operation Snowflake is a prequel novella to the Tombs series. If you miss Torchwood or the X-Files, you're going to love a science-fiction series that you won't be able to put down.
Buy Operation Snowflake and learn about the mission that damned us all.