The Last Days of Jack Sparks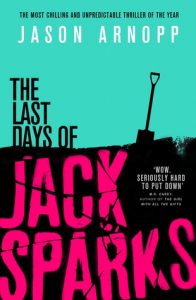 I love Jason Arnopp for his Doctor Who association and his love of horror. The last thing I read of his was A sincere warning about the entity in your home, and I had to turn the lights back on after that one.
Jack Sparks is his first novel with his own characters, and it's sublime.
Jack is a bit of an arsehole. A journalist writing books under such topics as Jack Sparks on Drugs, he decides to embark on a new project, Jack Sparks on the Occult. And what happens next is all down to his arrogance and mockery of those who believe more than he does. He travels to Rome to witness an exorcism and that's when it begins to go wrong for Jack. With scenes written as if you're relieving the exorcist, it brought chills to my back. When a YouTube video is posted under his own account, purporting to be a real life ghost captured on film, he begins his quest to find the people trolling him.
If only he believed a little bit more.
This book delivered on the horror front in spades. Never boring and managing to find new ways to bring that filmic horror to prose, Jason has written a really entertaining novel.
Pick it up on Amazon.