The Infinity Mainframe – Cover Reveal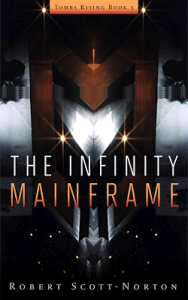 Things are going really well on The Infinity Mainframe edits. This is book 3 of the Tombs Rising series (all part of the Tombs Legacy) and I'm getting closer to releasing this alongside book 2 (The Remnant Deception) in the next couple of months.
It's taken a while to see the fruits of the last couple of years weaving these stories together but right now, I feel delighted that another big milestone is in sight.
And, it's a big book. Much bigger than I'd intended and despite working hard at keeping the story contained, characters keep demanding I tell more of their story. It's getting ridiculous. At this rate, I'll be having to create a whole new series just to keep these guys happy.